The Alpana, a trip at sea from Porto
sailing and yachting to Scandola, Piana, Girolata.
Discover the maquis from the sea, visit Porto gulf in a new way.
From April to November, 7 days a week, embark for an authentical, unforgettable experience with François-René Castellani, grandson of fishermen and a child in the "calanche " and his team.
Departing from Porto, sail for a visit of the natural reservation of Scandola, the village of Girolata and the coves of Piana. A memorable excursion at sea.
Along with his commentaries, François-René, a real enthusiast, he will share his anecdotes with you and above all his knowledge of water fields, fauna and flora.
Criss crossing the gulf of Porto since his childhood, François-René became a real expert! Never miss his acumen and touch of humor. He will take you for a journey in the West coast Paradise.
His boat, the Alpana, off shore fishing boat 34 foot long, the acme ship, a Rolls Royce of the sea will offer you all the necessary comfort for your cruise.
For more privacy and intimacy the Alpana is a 15 sitting boat, voluntarily limited to 12 passengers. Quite easy to steer, the Alpana sneaks in the sea grottoes and the coves of Piana and Capo Rosso. 700 horse power, strong sensations are garanteed during the trip.
With the Alpana you will reach, in a very short time, the most prestigious and secret sites that fit the rhythm of the waves.
Our commitment : the Alpana is the certainty of a high quality trip at sea, discovering nooks and crannies of grottoes inaccessible to bigger passenger boats along with a guide who knows the region as the palm of his hand.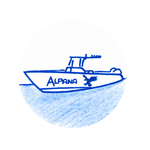 OUR EXCURSIONS
Discover our trips in the Mediterranean Sea from Porto.
PRIVATIZATION OF THE BOAT
With your family or friends share unforgettable moments.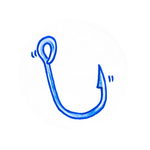 SPORTING FISHING
Leave for a period of fishing with a professional guide, monitor.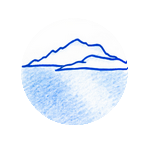 REGION
Discover the marvels of the West coast between Calvi and Ajaccio
from April to November, 7 days a week.
OUR EXCURSIONS
Recommended by the guides: